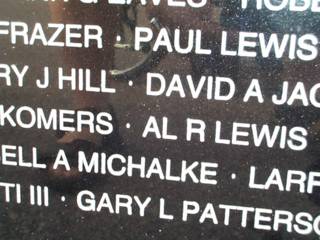 Today Colleen and I went to view the
American Veteran's Traveling Tribute
. It was being sponsored by the
Ho-Chunk Nation
and it was set up at the Ho-Chunk Casino. The simplicity of the Vietnam Memorial's design means that you as a viewer need to find a meaning in it. It doesn't tell you what to feel or how to understand. It simply reflects your image, makes you think about all of the people who died, and you have figure out what to think about all of that. And of course: why did it all happen?
When one needless death is difficult to comprehend, confronting nearly 60,000 is overpowering.
Along with the 80% replica of the wall there was a display of
artwork
by
Norm Bergsma
, US Army Vietnam era veteran. Mr. Bergsma is also the exhibition manager. His artwork is pointed, graphic, surreal, and moving. He takes you into his dreams, the fantasies and the horrors. He makes clever political statements and comments on what must be a profound internal conflict. And in doing all this he shows great personal strength and courage.
The picture above is a random close-up of the wall. I have more pictures in my
photos page
.