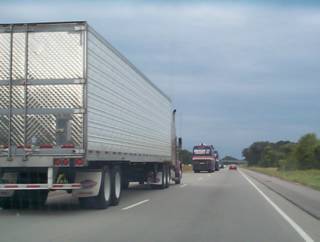 On the way to
Colby High School
for another interview, Colleen and I were passed by the Bush-Cheney 2004 caravan. They were on I90-94 possibly traveling to La Crosse, WI or maybe Minnesota. You can see one of their red, white, and blue buses in this picture (center). There were two buses and a police escort in front of them. Yes it is a pretty bad picture but it was the best I could get as they were speeding past us at about 80-85 mph (15-20 over). Gotta love people who are above the law.
Update 8-17-2004: A little web
research
and I found that it must have been a former Executive Director of the Christian Coalition and current chairman of the Georgia GOP traveling to promote Bush in Minnesota.